Posts: 25283
Joined: Sat Jan 19, 2008 10:34 pm
Contact:
As of last night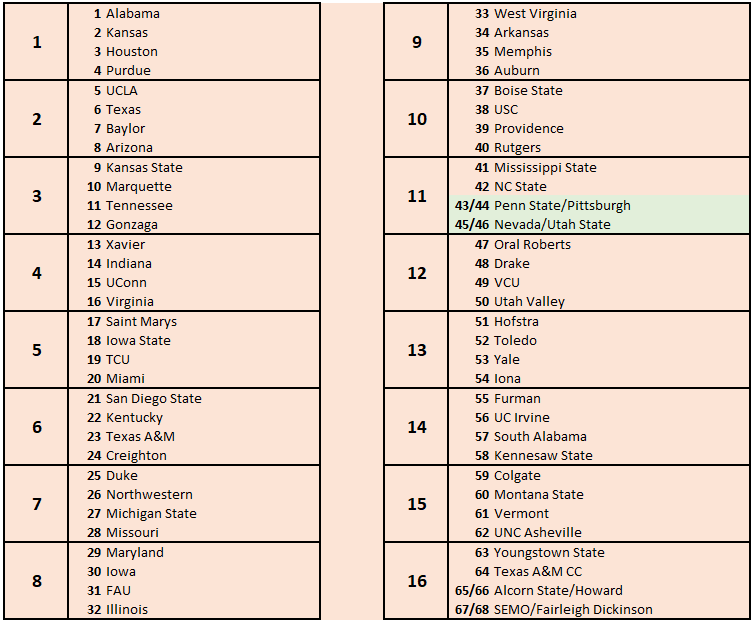 I asked a ref if he could give me a technical foul for thinking bad things about him. He said, of course not. I said, well, I think you stink. And he gave me a technical. You can't trust em.
Posts: 6626
Joined: Sun Feb 07, 2010 6:53 pm
Contact:
Houston's seed baffles me. They have played three Top 20 Teams all year and lost at home to Ala. I think they're very good, but a one seed should be earned, no?
Posts: 346
Joined: Wed Nov 24, 2021 9:32 pm
Contact:
Seems UCLA has an argument for being ahead of Houston. It could also be argued that the Big 12 deserves a 2nd 1 seed. Conference tournaments could easily change Houston's seeding. Even if Houston loses, if Texas and Kansas both make the championship game or UCLA wins, Houston may drop back a spot. Marquette also has an outside shot to leapfrog Houston.

I suspect if Texas and Houston get eliminated before the final 4, final 4 seats will become dramatically cheaper.
---
Return to "Xavier Men's Basketball"
Users browsing this forum: No registered users and 12 guests